TRANSPORTATION
Transportation from Beijing Capital Airport to IHEP
a) By taxi: You can get a taxi right outside the arrival terminals. It is about 40 km from the airport to the Chang-Feng Holiday Inn or the IHEP Guest House. The fare is about 22USD. If you take a taxi, please show tag (1) or (2) (below) to the taxi driver.
b) By subway: You can take Beijing Subway Airport Express from Airport Terminals 2 and 3 to Dongzhimen Station, from which you should transfer to Line 2. Change from Line 2 to Line 1 at Jianguomen Station, taking the train in the Pingguoyuan direction, and get off at Yuquanlu Station, exiting by the north-west exit (A). The IHEP campus is just at the north-west corner of the crossroads; you can enter by the south gate (300m west of Subway exit A). Note that the subway may be extremely crowded at peak times and that you will have to negotiate long flights of stairs, so it is unsuitable if you have heavy baggage or mobility problems.
c) Airport shuttle bus: You can take an airport shuttle bus from the airport to Gong Zhu Fen bus stop. The fare is 24 RMB (4 USD). From there you can take a taxi to IHEP for about 25RMB (3.5 USD). If you take the airport shuttle bus to Gong Zhu Fen, please show the tag (3) (below) to the airport staff. When you arrive at Gong Zhu Fen, you need to take a taxi to IHEP, please show tag (1) or (2) to the taxi driver.
Download the following instructions in PDF .[PDF]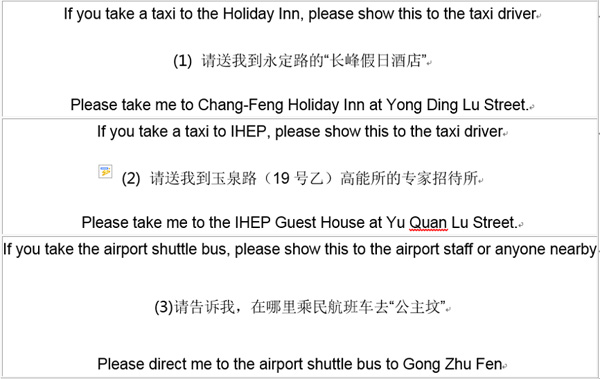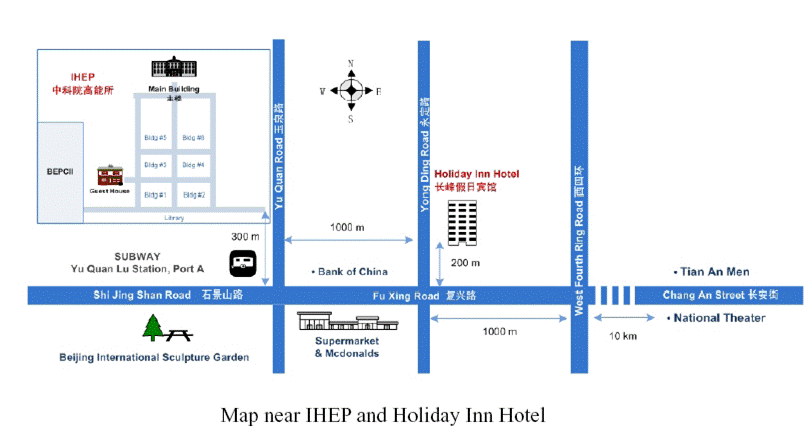 For the PGF version of Beijing subway map, please click here (download the PDF version)